Friday, July 21, 2006 (11:40:29)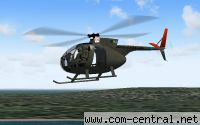 N

eed a great Military Helo? How about one with 3 different textures from 3 different real world military groups?

Thanks to JG300_fr8ycat's newest release
, now you can! Exclusive to Com-Central and done in CC's "EZ" install, downloading and installing this new file is a snap! Did we forget to mention it also has miniguns
AND you can shoot them too!
To read more and get this great new file:
Click HERE!
Don't forget you'll need to register if you're not a member of CC to get the download!